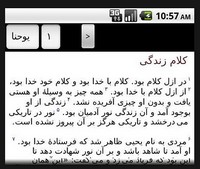 Dari Bible Android App - Lite
Language: Dari
The Bible in Dari - Old and New Testament (Holy Injil)- free for Android Phones! This download is for the simple "lite" version which works on all Android devices. Our latest version on the Android store provides more features and you may use the link below to reach this.
Full Dari Bible app
For Android phones
No internet access needed
This item is available for download only.